Air Flow Meter MAF Sensor 0280218063 for Volkswagen
TISAF142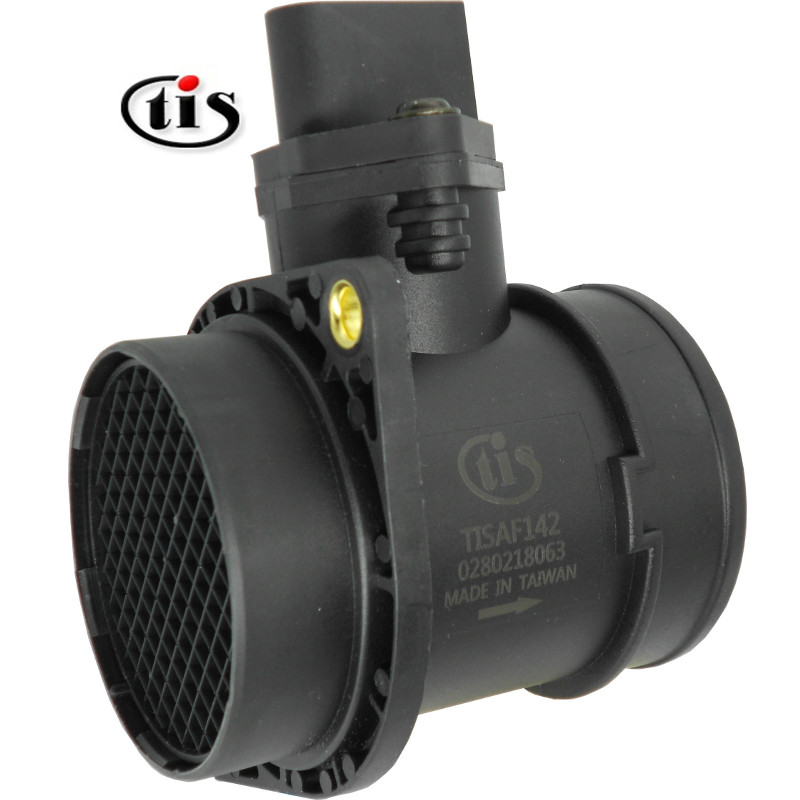 TIS-AF142 Mass Air Flow Meter Sensor can replace on Audi A4 Mass Air Flow Meter Sensor 0280218063, 0280218064, 06A906461LX, 06A906461L, 0986280217. The air volume entering the engine is measured by the HFM (Hot-film air mass meter). Aside from this product, we also provide crank angle sensor, ignition coil, wire harness, pressure sensor, ignition control module, and pencil ignition coil. Based on modern facilities for all our products, we supply world-class quality control and manufacturing technology for different requests.

Taiwan Ignition System Co., Ltd. is a qualify Auto Parts manufacturer, has more than 15 years of development and manufacturing experience. We follow OEM manufacturing specifications. Our Mass Air Flow Sensor passed high-temperature durability testing and thermal shock testing. We can make sure that our products complete 100% performance test before delivery.
Technical Data / Range
Nominal Supply Voltage: 14V
Supply-Voltage Range: 9~17 V
Output Range: 0~5 V
Input Current: <0.1 A
Temperature Range: -40 ~ +120 ℃
OEM No.
0280218063
0280218064
06A906461LX
06A906461L
0986280217
Application
1994 - 2000 AUDI A4 1.8
1996 - 2003 AUDI A3 1.8
1997 - 2005 AUDI A6 1.8
1998 - 2006 AUDI TT 1.8
1999 - 2006 SEAT TOLEDO II 1.8
1999 - 2006 SEAT LEON 1.8
2002 - 2009 SEAT IBIZA IV 1.8
2008 SEAT EXEO 1.8
1996 - 2010 SKODA OCTAVIA 1.8
1997 - 2005 VW GOLF IV 1.8
1998VW NEW BEETLE 1.8
1998 - 2005 VW BORA 1.8
2000 - 2005 VW PASSAT 1.8
2001VW POLO 1.8
Related Products

---
Press Release
January of 2021 New ignition coil announcement

During the epidemic, we are committed to developing new products.

Read More

Thailand Auto Parts & Accessories 2018

We exhibited Mass Air Flow Sensor, Pencil Coil in TAPA Exhibition.

Read More

2018 Taiwan Ignition System Company Incentive Travel

We would like to inform you that TIS would be having a 3-day incentive travel from 27th Sep. to 29th Sep. Therefore, there will not be any work arranged during those days. Thanks for your...

Read More